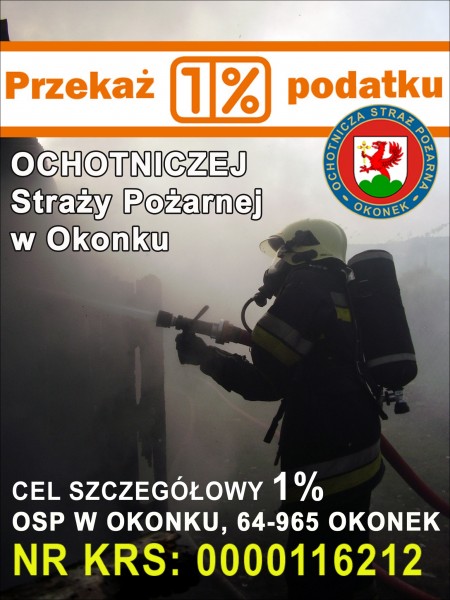 Jak co roku, zachęcamy Państwa do przekazywania swojego 1% podatku, na rzecz Ochotniczej Straży Pożarnej w Okonku.
To nic Cię nie kosztuje, a nam pomaga kupować specjalistyczny sprzęt, który wykorzystujemy podczas działań ratowniczo-gaśniczych.
Jednocześnie informujemy, że za rok podatkowy 2014, otrzymaliśmy kwotę 495,13 zł, i kupiliśmy za to 2 latarki nahełmowe Parrat PX1 LED.
Jak przekazać 1% podatku ?? – To bardzo proste !!
Wystarczy wypełnić odpowiednią rubrykę w rocznym zeznaniu podatkowym (PIT-36, PIT-36L, PIT-37, PIT-28, PIT-38).
w pozycji 122 wpisujemy nr KRS 0000116212
w pozycji 123 wpisujemy obliczoną kwotę 1%
w pozycji 124 wpisujemy: OSP W OKONKU, 64-965 OKONEK
w pozycji 125 zaznaczamy X tym samym wyrażając zgodę na przekazanie 1%
UWAGA ! NIE MOŻNA POMYLIĆ SIĘ W NR KRS, POMYŁKA OZNACZA NIE ZŁOŻENIE WNIOSKU

Serdecznie dziękujemy za okazaną pomoc 🙂